Transportation
CENTRAL LOCATION, BETTER LOGISTICS.
Direct access to Raleigh-Durham-Chapel Hill with national and global connections.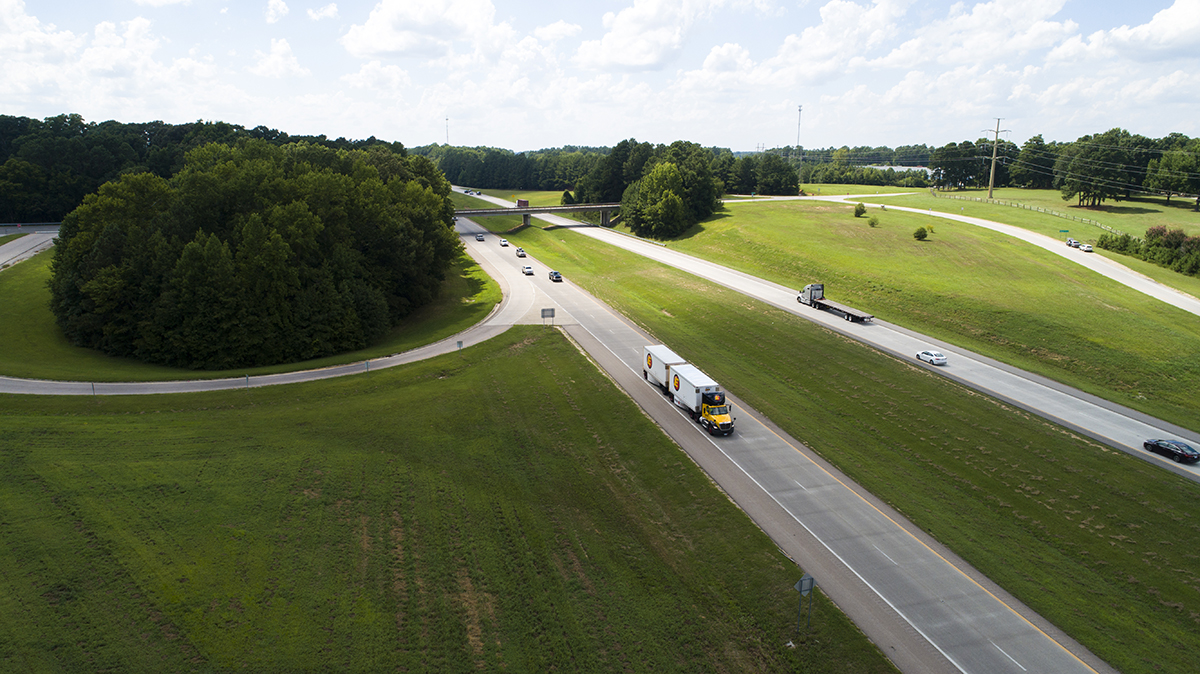 Vance County is a sweet spot for small and mid-sized companies. We're a business and cultural hub for the 4-county region just north of Raleigh. The City of Henderson is part of the Raleigh-Durham-Chapel Hill MSA (Metropolitan Statistical Area). That means all the business benefits of "The Triangle" are an easy 45-minute drive away on US-1 or I-85. There's a local airport that handles corporate jets with a 5,000-foot runway, plus international connections to anywhere at Raleigh-Durham International (RDU). CSX offers Class 1 Rail service daily and there are inland, river and ocean ports within easy reach.
If you need to move products or people, Vance County puts you in the center of the action. We're halfway between Charlotte, North Carolina and Washington, D.C. – and equidistant from Atlanta and New York City. This central North Carolina location provides national access to 100 million people within a one day drive, and more than 170 million U.S. and Canadian citizens within a 700 mile radius. North Carolina just surpassed 10 million in population, with a growth rate that's twice the U.S. average -- which makes Vance County a smart business choice for your company location.

HIGHWAYS
North Carolina boasts the second-largest state-owned highway system in the nation with more than 90,000 miles of road. The City of Henderson and Vance County are well served by state and interstate highways. Interstate 85 (North-South) has 8 interchanges in Vance County and runs from North Carolina through the manufacturing heart of the Southeast. US-1 (North-South) cuts through the heart of Henderson and stretches from the top of Maine to the southernmost point in the U.S. at Key West, Florida. US-158 (East-West) travels from the Atlantic Ocean to the Greensboro area. Connections to I-40 (East-West) and I-95 (North-South) are quickly reached. Need trucking services? Local motor freight providers include proven companies like Vance; Sherman & Boddie and Eastern. Truck leasing is available from Budget; Penske; Ryder; U-Haul and more. Over 70 freight carriers are located within one hour's drive of Henderson.

AIR SERVICE
Henderson-Oxford Airport (HNZ) is a general aviation facility that accommodates corporate jets with a 5,000-foot lighted runway and full instrumentation capabilities. The airport handles around 70 aircraft each day and offers maintenance, tie-down and storage. Less than an hour's drive away, Raleigh Durham International Airport (RDU) offers national and international air service from carriers including American Airlines, Delta, Continental, U S Airways, United, Southwest, Jet Blue, AirTran, Air Canada, American Eagle, Delta Connection, Continental Express, US Airways Express, United Express, Air Canada Express and Vision Airlines. Richmond International Airport (RIC) in Virginia is a two-hour drive from Henderson via I-85.

RAIL SERVICE
North Carolina is home to the largest consolidated rail system in the country with more than 3,200 miles of rail lines. If you're looking for reliable rail service, you're on the right track in Vance County. CSX serves the area on a daily schedule. Switching service is offered daily and piggyback service is available in Rocky Mount, North Carolina – a one-hour drive from Henderson – with connections in Raleigh to virtually any location on the Eastern seaboard. A Vance County rail spur connecting to CSX is an attractive option for local companies.

RIVER AND OCEAN PORTS
Henderson and Vance County are approximately 3 and ½ hours from North Carolina's deep water ocean ports in Wilmington and Morehead City. We're 2 and ½ hours from the Port of Virginia in Norfolk and less than two hours from the Port of Richmond on the James River in Virginia. The Port of Morehead City offers container and cargo operations with a 42-foot channel and can be reached by CSX and highways I-40, I-74, I-95, US-17 and US-74. The Port of Wilmington offers bulk handling and general cargo operations with a 45-foot channel and 38- to 42-foot depth. It can be reached by Norfolk Southern and I-95 and I-40 via US-70 and US-17.
ADD ITEM TO REPORT
As you navigate our website, you can use the "Add Page to Report" button to add any page or property to a custom report that you can print out or save.