Lake Assets
A FRIENDLY HOMETOWN, A LOT OF LAKE ASSETS.
A historic downtown, retail hub, and the largest recreational lake in the Southeast.

HENDERSON, NORTH CAROLINA
Henderson is the county seat of Vance County. This city of nearly 15,000 sits in northern North Carolina at the Virginia border. The community offers a friendly, hometown atmosphere, but it's also less than an hour from the many cultural and business offerings in the Raleigh-Durham-Chapel Hill area. Residents enjoy a mild climate year round (average temperature is 60 degrees with no extremes), lots of trees and green spaces, free parking and clean streets.
The first residence was built in Henderson in 1785 and there is a feeling of history everywhere. The revitalized downtown district is on the National Registry of Historic Places. There are timeless neighborhoods where you'll enjoy real Southern charm. Don't miss the antique/classic car show that routinely attracts more than 40,000 people to the downtown area.
Henderson also shows a contemporary side. It's a regional shopping hub for half a dozen counties in northern North Carolina and southern Virginia, thanks to the local intersection of highways US-1 and I-85 (featuring 8 Henderson exits). The centerpiece of downtown is a magnificent, 1,000 seat performing arts center named McGregor Hall. It presents plays, off-Broadway shows, concerts, musicals and recitals throughout the year. The $8 million project was designed to evoke "contemplation and inspiration" and was 100% privately funded.
Looking for everyday fun? There are numerous shopping centers and specialty shops; a popular regional farmer's market that displays local produce, fresh bread, flowers, crafts, artisanal products and classrooms. You can join a country club or one of 60 civic clubs and organizations. Watch an elegant sailing race at the annual Governor's Cup Regatta or be dazzled by the Kerr Lake Fireworks on July 4th.
Every day, it's easy to find great places to play, workout or just relax. Aycock Recreation Center is popular with families and features an indoor pool, gymnasium, fitness room and indoor walking track. It's part of Henderson's extensive public parks system, which offers nearly two dozen sites for everything from swimming and hiking to basketball, baseball, tennis, horseshoes and more. Fox Pond Park provides an exceptional outdoor venue with almost 7,000 feet of well-kept walking trails.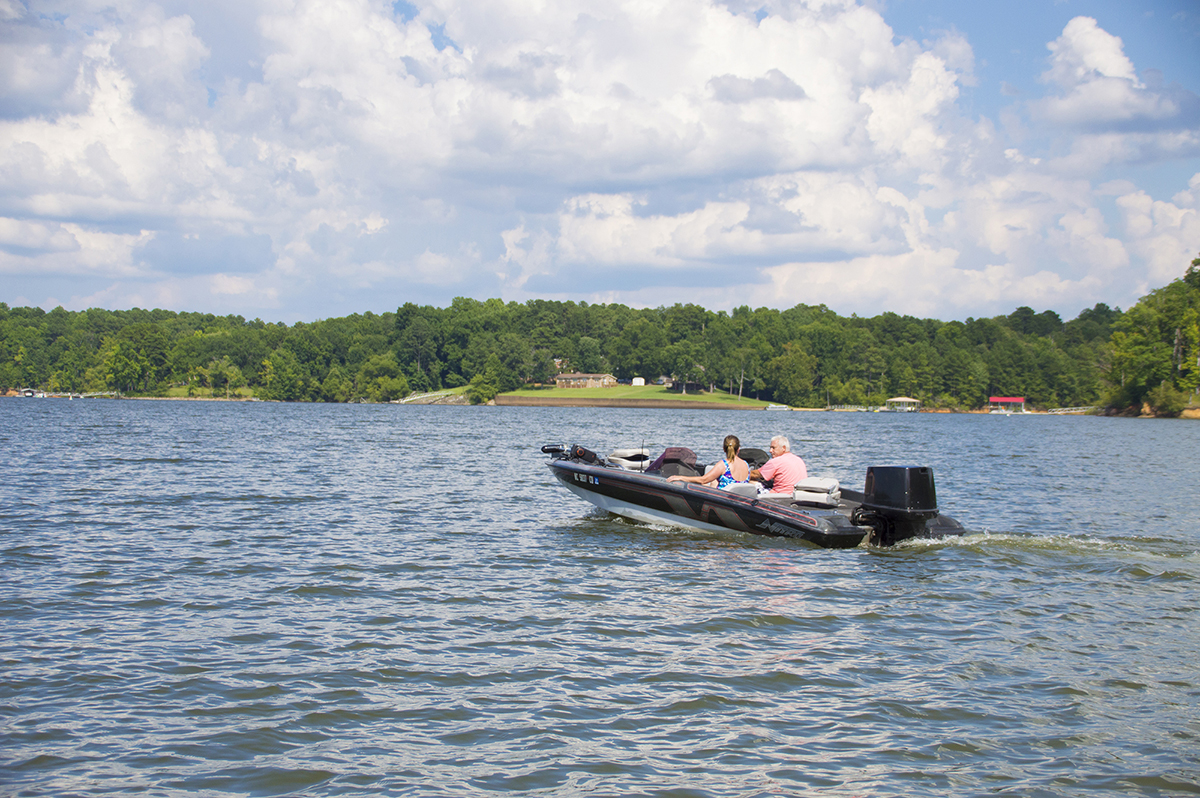 KERR LAKE AND KERR LAKE STATE RECREATION AREA
Kerr Lake is the biggest outdoor attraction in Vance County. It's the largest recreational lake east of the Mississippi River with 800+ miles of shoreline and 50,000 acres of fresh water. This magnificent "work of nature" is home to the most visited state park in North Carolina, Kerr Lake State Recreation Area. The park attracts over one million people each year, bringing together folks who share a love of camping, power boating, sailing, hiking and fishing (Striped Bass, Small and Large Mouth Bass and Channel Catfish are popular here). There are RV camp sites, swimming beaches, two private marinas, and wooded tent and trailer campsites with full electric and water hookups.
Kerr Lake has a corporate side, too. It provides an abundant water supply for Henderson, Vance County and several regional counties. Drinking water quality is so exceptional that in 2017, the Henderson-Kerr Lake Regional Water Authority was one of four facilities to earn "Gold Star" status from North Carolina. It's awarded to water systems that have been recognized for outstanding drinking water quality for ten consecutive years. For relocation and expansion planning, company CEO's can explore prime sites for business development (and executive homes) in locations ranging from wooded shores to secluded coves. Vance County offers abundant sewer capacity to make development easier.
Interested in nature and wildlife? The thick forests that wrap around Kerr Lake are filled with stands of pine, oak, dogwood, hickory, maple, beech and willow trees. You can hear many types of songbirds in these trees, such as indigo buntings, red-eyed vireos, northern cardinals, prairie warblers, eastern kingbirds and Carolina chickadees. Barred owls, great-horned owls and screech owls are often heard at night.
Birds of prey can be seen soaring overheard, including red-tailed hawks, red-shoulder hawks, ospreys and eagles. There are great blue herons and egrets along the shoreline, along with the belted kingfisher and double crested cormorant. In the winter, common loons arrive to send their haunting calls across the water. Canadian geese and mallard ducks are frequent visitors to Kerr Lake shorelines.
Furry creatures include white-tailed deer, raccoons, opossums, gray and red foxes, cottontail rabbits and gray squirrels. Beavers, muskrats and river otters make their homes at Kerr Lake. And there are several species of amphibians and reptiles including frogs, toads, turtles, lizards and snakes (most local snakes are harmless; however, copperheads are occasionally spotted, so visitors are advised to use proper caution).
ADD ITEM TO REPORT
As you navigate our website, you can use the "Add Page to Report" button to add any page or property to a custom report that you can print out or save.